Cégfelhő (Company Cloud)
Cégfelhő (Cloud Company) is a Hungarian modular corporate governance system capable of fully supporting the operational and financial processes of businesses.


Online
To use this system, you only need a browser; intranet or fully cloud operation is supported as well.


Transparent and easy to use
Quickly understandable, transparent user interface, where all features are available with one click.


Operation with multiple companies
The Company Cloud system can handle data from multiple businesses simultaneously, reports can be retrieved separately, or based on aggregated data from multiple companies at once.



Consulting

Planning

Development

Project Management

Implementation
CRM module
Customer management from the first contact to the conclusion of the contract, and then maintaining relationships with newsletters, with customer-accessible customer portals.


Contract management
Customer contracts with partners, handling of ad hoc orders, contract modification (registration of contract versions), with the help of contracts and related forms printable from the system.


Group billing
By using a group billing feature under the terms of a customer contract, hundreds of invoices can be generated in minutes. Based on the invoices, proforma invoices can be sent by email automatically. The billing algorithm is based on a customized billing system that takes into account contractual information, contract changes, and other parameters set for the partner.


Adjustable access management
Extensively parameterizable access management, that allows all users to access and modify only that data and functionality which they are allowed to use.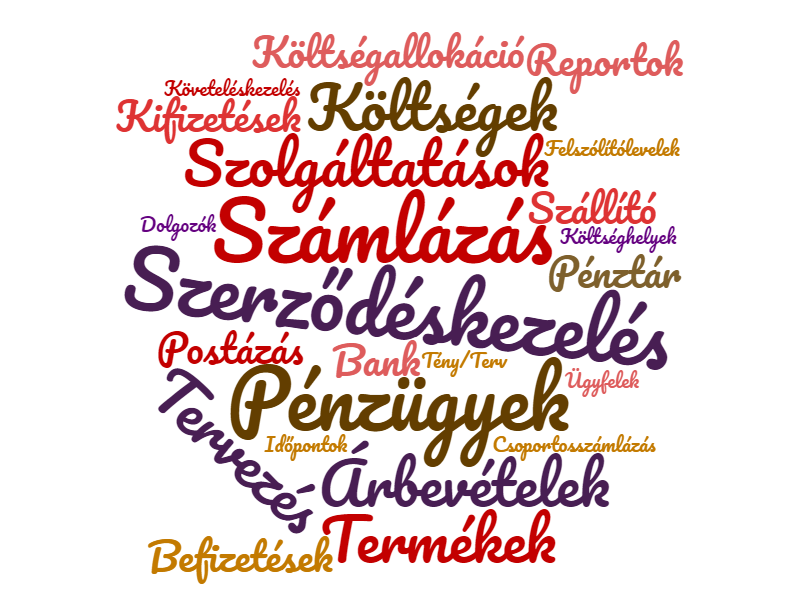 Billing
Contract or ad hoc billing according to law. NAV tax audit reporting function. The billing period (e.g. subscription fee) is recorded for billing of continuous services.


Cash registers
Multiple cash registers can be handled simultaneously within a company, automatic cash accounting can be linked to cash accounts, registration of daily cash balances, cash audit function at any time.


Bank transactions
In the system, based on daily bank extracts, you can track bank movements at transaction level, customer account settlements are automatically entered into the transactions, daily bank balances can be reported.Extensively parameterizable access management, that allows all users to access and modify only that data and functionality which they are allowed to use.


Data export, dispatch to accounting systems
Manual or automatic dispatch to accounting software (Buyer, Supplier, Bank, Cashier) in a pre-agreed and defined way.


Tracking customer account settlements
The settlements of customer accounts – invoices issued from the system or issued manually but registered in the system - can be traced and recorded, with managing partial payments and overpayments.


Debt management
Payment orders can be generated from the system; debit management events, promised payment deadlines, contract termination initiatives can be recorded.


Supplier invoices and costs
Registration of supplier invoices and costs, tracking invoice payments, managing payouts, managing partial payments and supplier current accounts.


Inbound and outbound mail
Inbound and outbound mail handling, posting, postal printing.


Customer service
Contact with customers, registration from the first contact to the conclusion of the contract. Registration of partner data (contacts, partner events, bank accounts, etc.).


Calendar management
Calendar management implemented with Microsoft Outlook and Google Calendar for managing customer contracting and other customer events.


Customer satisfaction measurement
Generating customer satisfaction emails and forms from the system along the questions you define. Analyzes and statements based on data received from questionnaires.


Annual revenue and cost planning
Annual planning and measurement based on the revenue categories and cost types defined according to the system (automatic collection of fact data for the plan data).


Cost allocation
Breakdown of cost accounts, banking costs and salary costs by cost category breakdowns for revenue categories.


BI reporting
In addition to built-in reports, custom, user-defined analyzes, statements, and pivot tables can be made with any content and format with excel export options. It is possible to set individual statements and queries automatically to be sent to predefined managers and colleagues.